Solar Eclipse 2020 Date, Timings and the Effects on our life
The solar eclipse is one of the most amazing natural phenomena. It is one of the few natural happenings that can be seen by normal humans. Scientists wait for this day the whole year to graze deep into the science and happenings of this celestial event.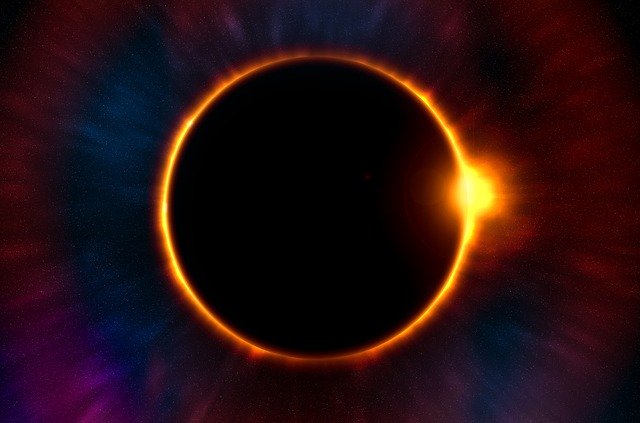 The Solar eclipse is also known as Surya Grahan in the Sanskrit language. It mostly takes place on a new moon day. An eclipse happens when all the three celestial bodies namely sun, moon, and earth are in a straight line. But when the moon comes between the earth and the Sun a solar eclipse takes place. The moon blocks the view of the sun from certain parts of the Earth. These parts are those where the shadow of the moon drops.
When is the solar eclipse in India?
This year is great for sky grazers because there will be a total of 6 eclipses this year. Out of the six eclipses, four will be lunar and two will be solar eclipses. All of these eclipses can be seen from different parts of the world. This year the annular solar eclipse which can be seen from India will take place on 21 June 2020, on Amavasya.
Complete Details of 21 June solar eclipse
Beginning of Solar eclipse- 9:15 AM
Beginning of Partial Solar eclipse- 10:10 AM
Greatest/Maximum phase of Eclipse- 11:43 AM
Expected Obstruction of the sun by the moon- 35% (may vary according to the area)
Ending of Partial Eclipse- 1:26 PM
The total duration of eclipse- 3 Hrs. 16 Min.
In which areas 21 June solar eclipse will be visible?
If you recite in Rajasthan, Uttrakhand, and Haryana state you will be able to witness this amazing celestial event. But the people living in Chamoli, Sirsa, Dehradun, and Kurukshetra will be the luckiest ones because the obstruction in these places will be around 93% to 99%. These people can even get a chance to witness the "ring of fire".
Effects of Solar Eclipse on our Life
India is a country where most of the people believe in ancient beliefs. According to our ancient books and writings, the solar eclipse has a great effect on the human body, mind, and soul. They can bring both negative and positive effects on human life.
Life-Changing Events- A solar eclipse can bring you many life-changing moments. Some people can experience happy moments like a job promotion, marriage, childbirth, or any other good news. But for some people, the eclipse can bring grief to their life and events like serious illness, death of your near ones, accidents, etc. can take place.
Pregnancy– Pregnant women need to stay the most careful during an eclipse. Because the solar eclipse can harm the health of the mother and the foetus. During this time miscarriage and deformation in the baby are common.
Negativity- It is believed that during a solar eclipse lots of negative energy is transferred to the earth. That is the reason that people should take a bath in holy rivers like Ganga or Yamuna to remove all the toxins from the body.
Food- The food cooked during a solar eclipse is discarded in India. Because from ancient times, it is believed that the food cooked during an eclipse turns toxic and should not be consumed.
Eyes- Many space organizations as well as ancient books suggest people not to see solar eclipse with naked eyes. Viewing eclipse with naked eyes can cause permanent damage to the retina and can also cause blindness due to the excessive UV light emission.
Digestive system- An eclipse can have a pretty bad effect on your digestive system. It can disturb your digestive system, which is the reason many people choose to skip meals during the eclipse period and choose to fast.
Psychological Effects- The eclipse can all also affect your mental health deeply. You can feel increased agitation, negativity all around, unusual dreams, inability to make effective decisions, and relationship difficulties.
Solar eclipse effect on Zodiac Signs
Celestial activities have a deep impact on our zodiac signs. The solar eclipse is one such activity that causes many changes related to horoscope. Some zodiac signs have a positive impact while some suffer from negative impact. Our expert astrologer Arti Mittal has explained these changes according to different zodiacs in the easiest possible way.
Aries (Mesh Rashi) – You need to be extra attentive towards your domestic affairs and siblings. Any past illness can reappear and cause problems for you. Refrain from taking risks regarding your work. A tough time for professionals, they will suffer to maintain their position.
Taurus (Vrishab Rashi) – The effect of the eclipse will not be negative for people with Taurus sign. Keep in touch with the elders of the family or other people you influence you. Take extensive care of your siblings.
Gemini (Mithun Rashi) – You are prominent to suffer from any diseases, especially related to eyes and lungs that will require special attention. The financial aspect will also be on lower ground. Expenses in your family will rise and will be of major concern for you.
Cancer (Karka Rashi) – This solar eclipse will affect you on both the financial as well as health aspects. You can incur sudden financial losses and huge expenses. Remain careful about your health condition and not neglect even small issues.
Leo (Simha Rashi) – You will need to be extra careful regarding your health. The financial losses you will suffer during this time can create a bad impact on your health. Visit a doctor even for a small issue, because neglecting the health issue can lead you to serious illness.
Virgo (Kanya Rashi) – This will be a beneficial time for all the Virgo natives. You will become very strong financially, due to the excessive gains. Also, your relations will become sweeter and harmonious.
Libra (Tula Rashi) – This will be a tedious time for both businessmen and professionals. A businessman should rethink their strategy to increase gains and also be extra cautious while lending money. Also, job-goers will fell that this time is difficult due to excessive work pressure.
Scorpio (Vrishchik Rashi) – There will be no issues related to health conditions for most of the people. But those suffering from an illness should be extra careful. This time will need your extra efforts to shine out.
Sagittarius (Dhanu Rashi) – The time is not appropriate for any new investments, and you should handle the financial matters more skilfully and tactically. Avoid junk food and roadside food to keep yourself safe from viral infections.
Capricorn (Makar Rashi) – This will be a great time for your profession. You will receive many new projects and appreciation from your seniors. But stay cautious with your health as past problems may reappear.
Aquaris (Kumbh Rashi) – It is a good time for people with Aquaris zodiac. They will successfully come from their current problems, and everything will be favorable for them.
Pisces (Meen Rashi) – Your financial condition will be quite stable. But you will suffer from your partner on your relationship ground. Differences between you and your partner may increase significantly. You will need to be extra careful at this time.
The solar eclipse time can be very beneficial for some while tedious for others. To get all your problems solved and get the most out of the solar eclipse period, you will need to consult an expert astrologer.
Arti Mittal is the best astrologer in Jaipur, Rajasthan, who can guide you the best to gain the most out of the solar eclipse. She has been working for the past 20 years as an astrologer. She has helped lots of people to sail out of their difficult times. Arti Mittal will guide you with the best remedies to stay safe from the bad effects of the solar eclipse.